Cars
IS THE GENESIS THE BEGINNING OF A NEW HYUNDAI?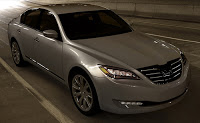 Hyundai

has released pictures of its future near-luxury sedan, the Genesis. Although clearly not Hyundai's genesis, this being 2007 and not 1967, the Genesis will mark yet another rebirth for Hyundai. The Sonata's, XG's, Azera, and even the non-NorAmer market Equus have nothing on the Genesis.
As mentioned in the first posting on this site, questions will undoubtedly arise in mainstream and enthusiast media, at auto shows and at kitchen tables. Hyundai puts a bit of a damper on the debate with its plans to keep base pricing under $30,000 USD. Over 300 horsepower from a V8-engined, rear-wheel drive vehicle with a driver-adjustable suspension and big wheels... it does sound good, ya gotta admit.
So the pictures reveal a big part of the equation - exterior appearance. This is a truly good-looking vehicle that wouldn't
look
out of place in a Lexus showroom although we're yet to find out if it would
feel
out of place.
-
Hyundai Ceo Says New Azera Coming Soon, Will Be More Upscale
You probably have noticed that Hyundai is on a roll lately. Whereas the newly-wed Fiat and Chrysler couple are trying to tidy up the mess left by Daimler -for the most part- with makeovers and tweaks, the South Korean automaker, which also owns Kia,...
-
Hyundai Teases All-new Azera / Grandeur, Slots Between Sonata And Genesis
Hyundai is getting ready to lift the wraps of its fully redesigned Azera large sedan that will slot between the front-wheel drive Sonata and the rear-wheel drive Genesis when it arrives in dealerships. The automaker released the first teaser sketches...
-
First Hyundai Genesis Coupe Crash - Looks Like The Airbags Failed To Deploy
Hyundai had the unfortunate chance to see how its brand new rear-wheel-drive Genesis Coupe performs in a real-world crash when a 2.0 Turbo slammed into the concrete surrounding of a metal pole somewhere in Korea. Despite the severity of the crash and...
-
Rhys Millen's 2008 Sema Hyundai Genesis Coupe In The Works
One of the three Genesis Coupes set to make a splash at Hyundai's 2008 SEMA show booth in late-November is the so-called "Art of Speed" by Rhys Millen Racing (RMR). Back in July, RMR and Hyundai produced a teaser sketch of the vehicle...
-
The Good 12 V3.0 - Part Iv
HYUNDAI GENESIS 4.6 Hyundai's new beginning didn't start with the Genesis. Quality came first, attached to the value card Hyundai's been waving around for a couple decades. The Genesis V8 combines quality.... with value .... with an outreach...
Cars