Cars
Geneva Show: IED Maserati Chicane Concept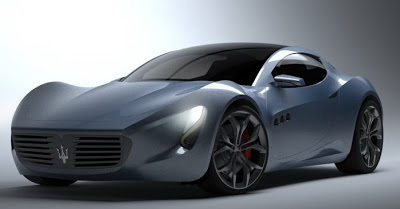 Set to make its debut at the forthcoming Geneva Motor Show in March, the Maserati Chicane sports coupe concept is the work of 17 students from the Instituto Europeo di Design (IED) of Turin, in Italy. According to IED, the Maserati Chicane represents a compact 2+2 derivative of the classic Maserati coupe theme, with V8 engine and rear-wheel drive, which could potentially fit underneath the more luxurious GranTurismo 2+2.
Via: Motorpasion , Source: IED
-
Maserati Granturismo S Automatic To Debut In Geneva
Keeping its promise to introduce a new model at each international car show, Maserati has just announced that the GranTurismo S Automatic will make its world premiere at next month's Geneva Motor Show. The latest addition in the GranTurismo's...
-
Maserati To Surprise Us At The Paris Show Opening
On October 2, which happens to be the first day of the Paris Motor Show, Maserati plans to surprise us with something new. While the Italians won't say what it is, they did create an online poll on their official website asking visitors to choose...
-
Maserati Granturismo Spyder With Electric Folding Hardtop Scooped!
It has only been a year since Maserati took the covers off the scrumptious GranTurismo coupe but the Italians are getting ready to unveil a new, cabriolet version. And as you can see from these scoop pictures, courtesy of an eagle-eyed reader of the Dutch...
-
Update: Maserati Granturismo Official Press Release & High Res Image Gallery
Since we did an update on the new A5 with new pictures it would be only be fair to come back with new information concerning the new Maserati GranTurismo, which by the way, the more we see the more we like. Follow the jump and click "Read More.."...
-
New Maserati Coupe Photoshop
We discovered this photoshoped image of the next generation Maserati Coupe over at our Italian friends at Autoblog.it. Although we didn't manage to find the artist responsible for the impression, we'll give him a thumb up for his creation...
Cars