Cars
Another EV Manufacturer Goes Under, This Time It's Coda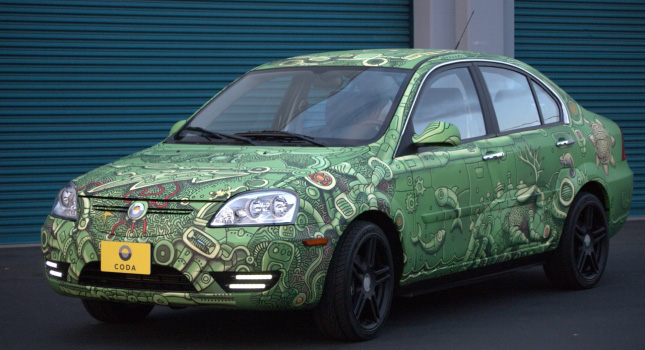 Coda is a little-known name in the industry, primarily because it is a very small company, which only makes one car…or let us rephrase, made one car. The Los Angeles-based startup filed for bankruptcy protection on Wednesday, because their single offering did not attract the desired number of buyers.
The Coda Sedan was assembled locally, in Los Angeles, from knockdown kits brought in from China, and they only managed to build and sell one hundred examples. The all-electric sedan offered conventional looks, lots of space inside and a competent electric powertrain, as well as a maximum certified range of 125 miles, or 200 km.
Read more »
-
The Coda Sedan Ev Is Kind Of Back, But Not Really…
Coda, the LA-based startup EV manufacturer, went bust in May of this year, and decided to try and apply its technology for more stationary uses, not that many people actually cared or even knew about it, but it happened. It was hard to justify missing...
-
Electric-automaker Coda Recalls Cars In The States Over Improperly Manufactured Air-bags
Coda Automotive has issued its second recall since filing for bankruptcy protection in May. The maker of the all-electric Sedan that is based on the Chinese Hafei Saibao said the recall action affects 117 examples of the 2012MY car because the side curtain...
-
Zagato Alfa Romeo Tz3 Corsa: Official Specs And Photo Gallery From Villa D'este
The Zagato-penned and developed Alfa Romeo TZ3 Corsa was finally revealed in a world premiere at this past weekend's prestigious Villa D'Este Concours. As Zagato pointed out, the car is not a design exercise but a one off racing special that...
-
Tesla Model S Electric Sport Sedan: High-res Gallery And Official Details
The wraps finally came off Tesla's all-new, plug-in electric sports sedan, the Model S, on Thursday in Los Angeles. Concisely, the Model S can seat up to seven passengers (we'll explain this below), sprint from zero to 60mph or 96km/h in just...
-
Nice Micro-vett E500: All-electric Fiat 500 Debuts In London
Europe's Car of the Year, the Fiat 500 has obtained an all-electric powertrain thanks to the chaps over at the UK based company Nice that specializes on electric vehicles. Produced to order in Italy by Micro-Vett, the first all-electric 500 will be...
Cars