Cars
A 600HP Tongue Twister: SchwabenFolia's Weismann Roadster MF5 V10 Black Bat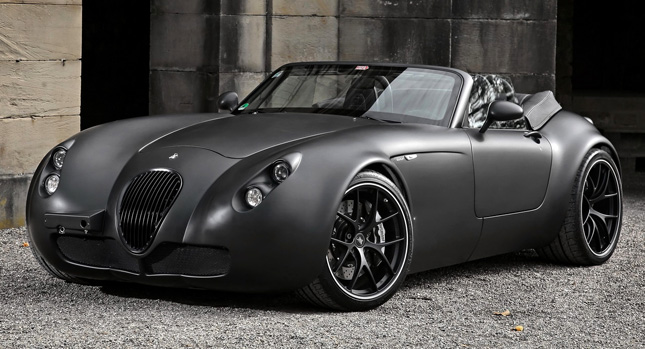 We'll forgive you if you've never heard about SchwabenFolia and Dähler, its co-partner in the creation of the Wiesmann Roadster MF5 V10 Black Bat.
SchwabenFolia is a car wrapping company based in Korntal-Münchingen, Germany, and is responsible for the Roadster MF5's dark looks.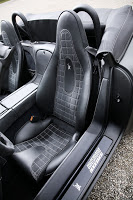 The company dressed the outer body panels as well as bits from the interior plus the door sills, trunk and engine room in a matte black skin. To showcase its craftsmanship, SchwabenFolia even wrapped the 20-inch BBS alloy wheels in the same shade.
A foiled "imprint" of the Nürburgring's northern loop on the driver's side and the chrome emblems round out the makeover.
Read more »
-
Schwabenfolia's Not So Stealthy Mitsubishi Evo X Stealth Fighter
Only Schwabenfolia knows how a matte grey Mitsubishi Lancer EVO X with orange wheels and accents, red and white decals and a Hello Kitty tattoo can be stealthy on the road, but if it's attention you want, then the German tuner's "Stealth...
-
Scooped: Germany's Roding Roadster Takes New Shape
We'll forgive you if you've never heard of the name Roding before. Based in Germany, the company made its first appearance at the 2009 Frankfurt Motor Show with an odd-looking roadster concept promising to deliver a production version of the...
-
Bmw Z4 400hp Custom Build Inspired By Nike's Slingshot Golf Clubs Series
Sometimes inspiration can come from the most unlikely sources. Take MWDesign, for instance. For their latest project based on the BMW Z4 E89 hardtop-roadster with straight-six turbo, the Vancouver-based tuning shop drew their design inspiration from...
-
Stealthily Tuned Audi R8 Valkyrie By Sr Auto
SR Auto Group's new Valkyrie project is all about adding some dark style to Audi's R8 supercar. The tuning house starts off with a matte black wrap for the body and continues with a series of carbon-fiber aero bits from PPI. The smoked front,...
-
It's A Wrap: Techart Unveils Tasty Porsche Panamera Black Edition
In a lighter-than-usual take on the Porsche Panamera, German tuning house Techart has unveiled a surprisingly tasty cosmetic-only package for Stuttgart's new four-door sports saloon Aptly named "Black Edition", Techart's Panamera proposal...
Cars