Cars
2014 BMW Z4 Roadster Ever So Faintly Revised, Gains New Entry Level sDrive18i Edition [85 Photos]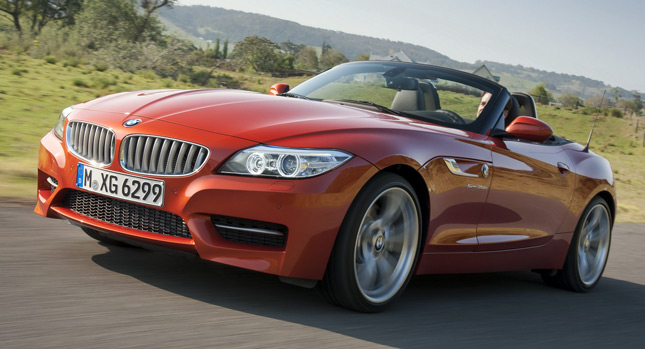 If you were waiting for BMW to apply some of the design lessons learned from Zagato's Coupe and Roadster concepts or at least take some inspiration from
this speculative photoshop
for its updated, 2014MY Z4, you'll be disappointed.
In fact, you will probably have to be an owner of the current model or a very dedicated Z4 fan to distinguish the styling changes on the hardtop roadster. These are limited to the three-dimensional design of the LED light rings on the headlamps, the BMW lettering on the LED accent lights on top, the new available 17- and 18-inch alloy wheels and a newly designed, tapered surround for the side indicators.
In addition, BMW has added a new Hyper Orange package that can be ordered with three new colors named Mineral Grey metallic, Glacier Silver metallic and Valencia Orange metallic, the latter of which is featured on the car pictured in this gallery,

This new styling package dresses up the interior of the Z4 in a combination of black leather and Alcantara with orange accent stiches, stripes, and door panels, a metal weave trim for the dashboard, and high-gloss black for the door openers and the gearshift or selector lever.
Read more »
-
Skoda Launches New Limited Edition Yeti Urban In Britain
More often than not, special edition models come with a price hike, but that's not the case with Skoda's new Yeti Urban that features up to £2,450 worth of extra equipment at no extra cost over the SE trim it is based on. Production of the...
-
Suzuki Puts A Little 'special' To Its German Market Sx4 Crossover
A new special edition model has been added to the range of the Suzuki SX4 in Germany. The SX4 Limited comes with a number of discreet styling changes such as the gunmetal paint for the front grille, 16-inch alloy wheels and roof rails along with the...
-
Mercedes-benz Launches Sl Night Edition And Slk Grand Edition Specials
Two new special edition roadster models have been added to Mercedes-Benz's European range. Both the SL Night Edition and SLK Grand Edition gain numerous interior and exterior features, and are available for order now. Starting with the SL Night Edition,...
-
Volkswagen Releases New Beetle 'black-orange' Special Editions
Continuing its long-lasting love affair with special edition models, Volkswagen has announced the launch of the 'Black-Orange' series for the New Beetle hatch and convertible. Both body styles are available with either a black finish and contrasting...
-
Mercedes Slk Special "edition 10"
Mercedes-Benz's Paris SLK showcar "Edition 10" (for the ten years of the SLK) has found its way to production as it will be available from January 2007. The special model is distinguished by a unique paint finish called "allanite grey Magno", available...
Cars